Cadiz, the perfect destination
It is clear that the word of the year is, "new normality", something that all Spaniards and even the rest of the world are longing for, and that is that with everything that has happened and at the time that we are almost in summer, Spanish tourism in Spain is going to be a boom this year.
Every year, many of us prepare our summer holidays. Most of the trips we make are abroad, but with the pandemic that we have experienced and are still experiencing, this year we will have to do national tourism. But let's not see this as a bad thing.
Spain is one of the favourite destinations for international tourism, and the most outstanding ones, in summer, are usually the places with beaches and coasts. Therefore, Cadiz is the perfect destination, because of its beaches, its gastronomy, its history and its people. It is said that in Cadiz there is "happy tourism".
Every year and in high season, more than 2 million tourists visited Cadiz in 2019, rating the city with an average of 8.5 out of 10. It is clear that there is a reason for this, and that is that Cadiz has one of the best climates in Spain.
We are not the only ones to tell you this, because in 2019 "The New York Times" magazine ranked us as the only Spanish destination in its ranking of destinations, occupying 50th place on the list.
But dear reader, we are not only going to tell you how great Cádiz is with words, we are going to show you some of the most beautiful places in Cádiz. But we won't be able to list them all, so we'll put the list up and expand it on other occasions, this list will focus on summer tourism.
The beaches of Cádiz
The capital of Cadiz has 4 beaches, Caleta Beach (La Caleta), Santa Maria Beach, The Victoria Beach and Cortadura Beach, all of which have the distinctive Blue Flag, an award given to beaches that are renewed every year, that is, one year you can have the Blue Flag and the next you can lose it. They are the Michelin stars of the beaches.
Caleta Beach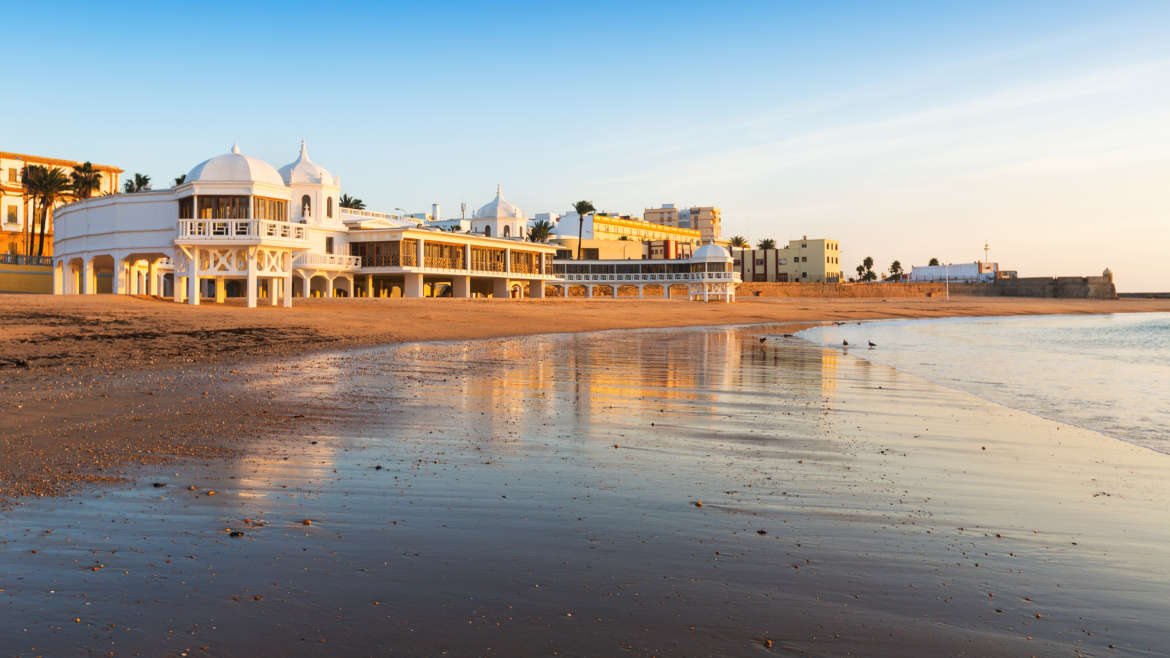 It is the smallest beach in Cadiz, but the one with the greatest concentration of people. It is a very family-friendly beach and has an old spa located on the beach itself, giving it a majestic approach to the beach. In Cadiz it is said, "you cannot leave Cadiz without taking a bath in La Caleta". Its views of the San Sebastian Castle, is undoubtedly a fantastic place to spend a good Sunday at the beach.
Remember that Planeta Cadiz Hostel is very close to La Caleta Beach, and is the best place to stay in Cadiz for its quality/price
Santa Maria Beach

A long beach with miles of fine sand, crystal clear water and plenty of room to put your umbrella. The sound of the sea and the waves are ideal for those who want to relax, some relax so much that they end up taking a nap on the beach while listening to the waves breaking against the shore.
Victoria Beach

Although Santa María beach ends, there is an imaginary frontier starting from the well-known Hotel Playa Victoria, where Playa de la Victoria begins. At the end, on this enormous beach, the Cortadura beach begins.
Cortadura Beach
A beach that was originally virgin, was gradually expanded and created a Spa with footbaths, showers and beach guards. A beach with an extensive sandy terrain where you will have no problem finding space. This beach is at the end of Cadiz and you will need a transport to get to this beach. Don't worry, Cadiz has a good bus line that will drop you off at the beach.
For all the beaches in Cadiz, you know, plenty of sunscreen and respect for the signposted flags to make it a perfect holiday.
Gastronomy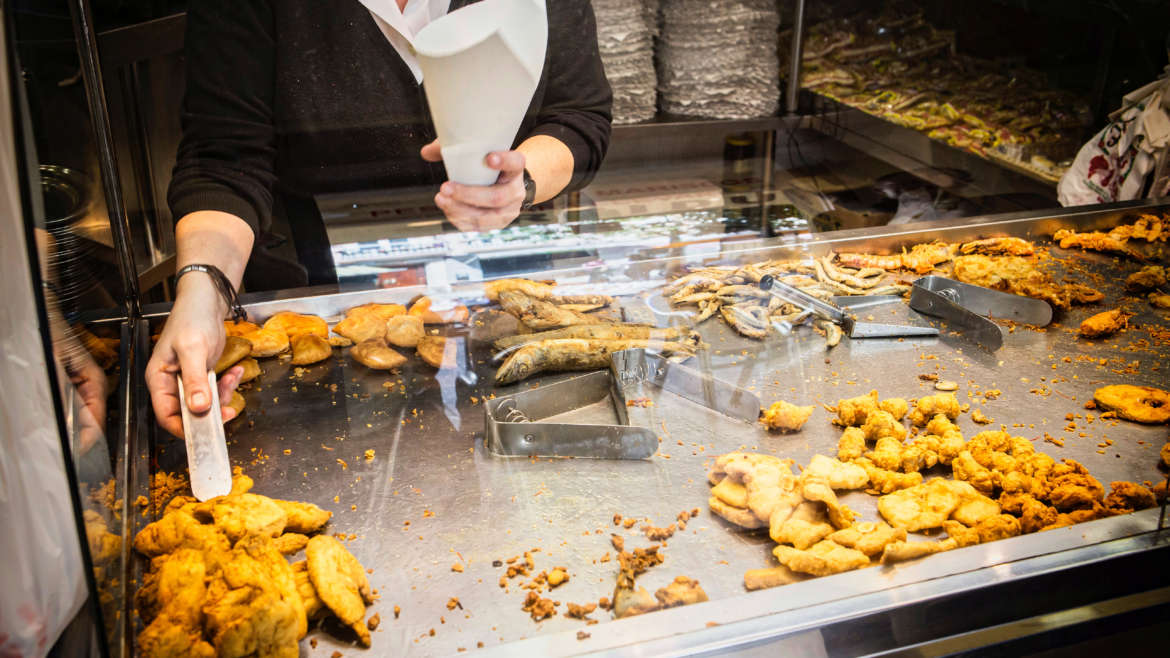 Cadiz's gastronomy is very wide, but what stands out most from our land is undoubtedly the Pescaito Frito: an assortment of fish from the Bay of Cadiz, fresh and freshly caught, where you can inflate yourself to this delicious delicacy, for a servant, what stands out most from the Pescaito Frito is the Cazón en Adobo, tasty, rich and nutritious!
I won't mention restaurants, but 100 meters from our Hostel you have a Freidor (that's how the specialists in Pescaito Frito are known) where they will serve you the best of the best.
Gastronomy is something that cannot be written or shown in pictures, but you have to try it for yourself!
History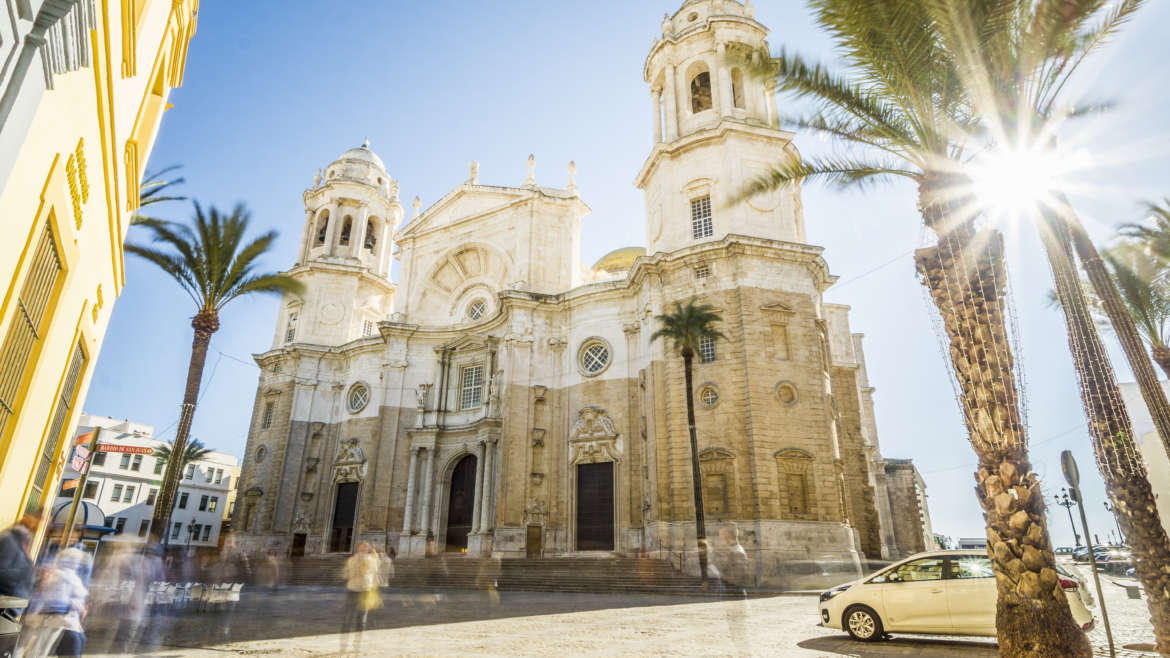 The immense history that Cadiz has behind it cannot be named in a few paragraphs, but every corner of Cadiz hides a mysterious place. Walking through the streets of the Historical Centre of Cádiz is like going to an open-air museum. If you have arrived in Cádiz, have you passed through the Puertas de Tierra? That great fort that protected Cádiz and the only access to the city that existed at that time on foot. Cadiz, the birthplace of the Spanish Constitution, where you can visit the Royal Theatre of the Cortes, where La Pepa was written and signed…
If you want to know more about Cádiz, contact us and we will be happy to inform you about everything you can discover in this wonderful city.
Its People
There is no doubt that its people are different to what you might know, friendly people who help you until you find your destination and tell you, with the best possible intention and with a humble English in some cases, how to get to the place you are looking for.
You will feel loved when you come here, as there is always room for one more. Because once you leave Cádiz you will only want to come back.